About Metal Spinning Targets
Metal Shooting Targets, Dueling Trees, Reset Targets & More!
Serving Buffalo, Albany, Syracuse, NY & Beyond!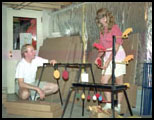 Dave and Darlene Kasinski check their inventory for several types of the metal shooting targets they make & sell through Metal Spinning Targets Inc. Photo & caption from Batavia Daily article.

Located in the town of LeRoy, NY, a rural farm community in Western New York, Metal Spinning Targets, Inc is a family owned and operated business founded by David Kasinski, a professional drafter / designer, and avid outdoorsman & hunter. Dave has always been passionate about shooting and hunting and this led him on the journey to design, create, and perfect his own shooting targets.
Combining his love for shooting with his professional skills, the company has strived to create and design custom metal targets for shooting practice. Dave's unique, high-quality targets began to gain popularity with shooting enthusiasts throughout New York, and eventually expanded across the entire US. His efforts eventually led to the building of Metal Spinning Targets, Inc. large customer base which includes police shooting ranges nationwide, the Circle K Regulaters & countless others that enjoy the sport of target shooting, hunting, and outdoor recreation.
With nearly 10,000 targets produced, Metal Spinning Targets Inc. has continued to grow thanks to word-of-mouth of from our valued customers and friends. We are now proud to offer our diverse range of products to the public through our website sales.
Our targets are designed, manufactured, tested exclusively by us, and we are proud to say our products are made exclusively in the USA and sold directly to the customer! Don't settle for department or sporting goods store products that are manufactured outside of the USA. Trust metal Spinning targets to provide quality targets for your shooting pleasure at an affordable value. With years of experience in the industry, we have the knowledge & expertise to deliver a top of the line product & experience.
Our targets cover the entire range of calibers from pellet guns to the .50 BMG. We produce targets for any need or level of skill, including but not limited to military, law enforcement, shooting clubs, and everyday outdoorsmen who enjoy the sport of target shooting.
Call today at 585-768-7260 to learn more about how we can provide a product to meet your needs!